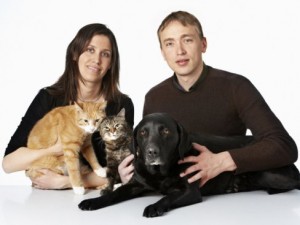 Welcome to Netveterinarian.com
Netveterinarian.com is a family owned site. The site is started by DVM Thea Kamstrup and DVM Kristian Kamstrup, both educated from the Royal Veterinary and Agricultural University of Denmark (later merged into UCPH) . Work has been with companion animals (dogs and cats). We started the Danish site Netdyrlæge.dk in a lexicon style in 2004. We hope that we can reach a bigger audience in an English site in blog form. We welcome your input and comments on our posts.
Our keen interest in dissemination and communication was founded early and we were both tutoring younger veterinary students at vet school. It is our wish that this veterinary blog on companion animal health and diseases will make information more easily accessible to cat and dog owners.
We acknowledge that it can be hard to remember what the vet has told during a consultation. We wan't to help owners in obtaining more information about the diagnosed disease. Hopefully we are able to answer questions that have arisen when you have come home.
Remember, that this website can't replace veterinary contact. It can merely supplement your knowledge about a disease condition in your dog or cat. We hope that you find what you are looking for. You are welcome to suggest us topics to be focused on in upcoming posts.
Company information
Netveterinarian.com is owned by:
Netdyrlæge.dk – din dyrlæge på nettet
Skovhuskrogen 11
DK-3500 Værløse
CVR: DK-32048161
Copyright:
Most illustrations on Netveterinarian.com are made by Illustrator Birde Poulsen
All illustrations of organs are made by DVM Thea Kamstrup.
All articles and posts are copyright © Netdyrlæge.dk and Netveterinarian.com.
Illustrations are © Birde Poulsen or Netdyrlæge.dk and Netveterinarian.com.
Photo: © Claudi Thyrrestrup 2009
Disclaimer:
Netveterinarian.com is not meant as an alternative to visiting or calling your own veterinarian in order to get a disease diagnosed. It is purely meant as supplementary information to pet owner who want to learn more about a diagnosed disease.
Netveterinarian.com disclaims any liability for damages or loss the have arisen from using information on this site. If any doubts and in case of acute illnesses, please contact your nearest veterinarian.
"When you hear hoofbeats behind you, don't expect to see a zebra"
A veterinary professional can assert which diagnosis is the most relevant from the given symptoms. To a layman it can be difficult to assert whether a disease is rare, common or even likely from seing them presented on a web site. We strongly discourage that this site is used for diagnostic purposes by non veterinary professionals.